Tecrony Co., Ltd. > Products >
Android Solution > Android Solution Board (TAS820R)
Android Multimedia Board


Android Solution Board
(TAS820R)

- 안드로이드 멀티미디어 보드는 안드로이드 OS를 탑재하여 다양한 형태로의 응용이 가능하며, 특히 테크로니가 개발한 NMS 응용 소프트웨어를 사용하여 네트워크를 통한 최적의 광고/홍보 솔루션이 가능합니다.


Product Images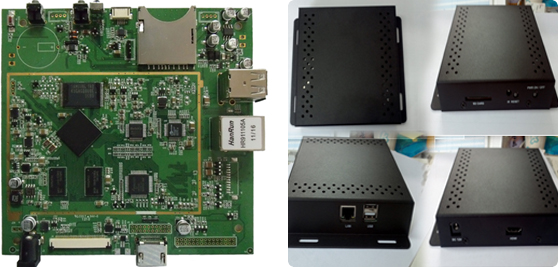 Detail Specification
CPU & OS
1.2G ARM cortex A8 core with Neon and 512KB L2 cache
Android 2.3 and future version(ICS)
System memory : DDR512MB
Storage : Nand flash memory (2GB-16GB) option.
I/O Interface
A/V output
HDMI
HDMI1.3 output connector & 20pin header
1. Adjustable HDMI resolution, scaling & auto detecting.
2. HDMI Landscape & Portrait displaying support.
LVDS & TTL
30pin header for LVDS support. 50pin connector for TFT LCD support.
1. Adjustable LCD Panel resolution
2. Ready to support 1920x1080, 1600x900, 1366x768 LCD resolution for Landscape & Portrait displaying.
3, TTL LCD 800x600 support
4. Support up to 1280X800 TFT panel and Multi-Touch capacitive touch
Analogue
YPbPr support,
MAX 8 channel I2S and SPDIF output for HD movie
Control Interface
IR support, I2C support.
HID(Human Interface Device)support for Mouse, keyboard and touch panel directly.
EX. Memory
3xUSB2.0 host connector (1xUSB inner option for Touch panel)
SD card support
Network
RJ45 connector for ethernet
Support Wi-Fi (802.11 a/b/g/n)
A/V codec
Video
* 1080P video decoding for H.264, VP8, RV, WMV, AVS, H.263, MPEG4, etc
* 1080P video encoding for H.264
Audio
* Multi-format audio playback. Support MP3, WMA, APE, FLAC, RA, AAC, OGG and WAV.